This is how I work during my travels
What kind of equipment do I bring in my suitcase? Days before I started my worldtrip I had quit some concerns what to bring. Do I need to pack my flash light? Well, most of the time I make videos, but what if I get a job in photography? Okay, less t-shirts and more equipment. I can always wash my clothes more often.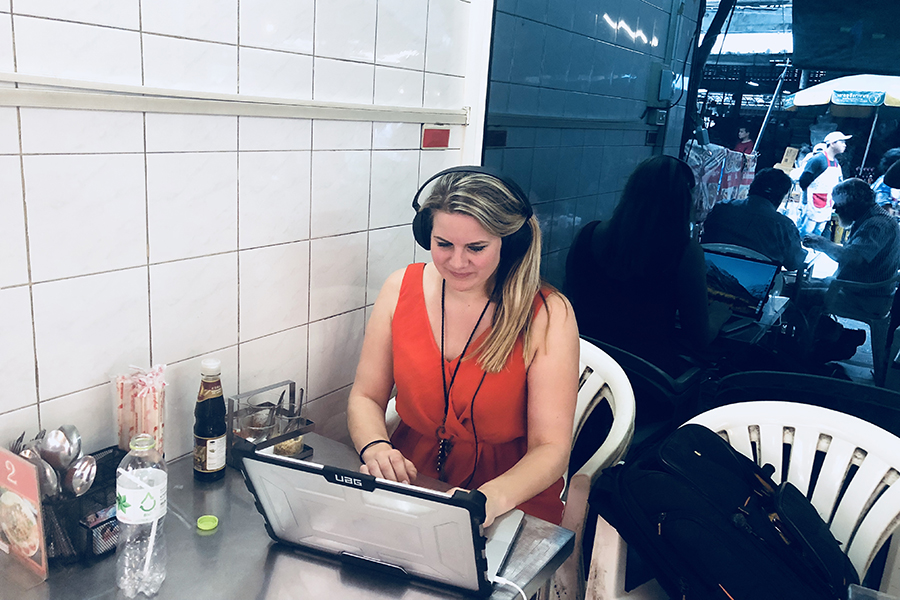 After traveling for months I finally found a good workflow. I prefer to travel as light as possible, so I only pack light clothes and efficient equipment like a travelcube to recharge all my gear in one time.
To produce my videos I'm using this gear:
Macbook with Premiere Pro CC.
When I'm editing my videos I also make two back ups on a hard drive. One back up is save in my suitcase and the other in my cameraback. So when one of the harddrivers will get stolen, I still have my material.
Canon Mark 3
Canon Mark 3 with a 24 – 70 mm lens plus a tripod. Why this lens? The range of this zoomlens is enough for filmmaking. When I'm filming I prefer to come closer to the subject instead of using telelenses.  So I decided to leave my 1,5 kilo telelens at home.
Vlogging with your Iphone
With my Iphone 8 + I film quit a lot. When I started my worldtrip I used a DJI Osmo. But I didn't like this stablised camera, because it is not practical. Before this camera is ready to use and you set up all your settings, it takes a couple of minutes. And as you know vlogging is all about catching spontanious moments.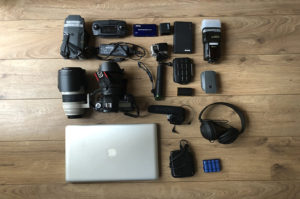 Sennheiser microphone. Good audio is more important than video. A viewer can't watch a vlog when your audio is crappy. So always make sure you got the best audio as you can get at that moment.
DJI Mavic Pro. Investing in a drone was one of the best desicions I made. This really increased the level of my videos. Drones are just awesome for your creativity.
How to find a working space abroad?
It's always a struggle to find a good (and cheap) working space. In almost any city you can pay for a co-working office. The biggest adventage of these kind of offices is that you meet other digital nomads and you don't have to work at home.
Sometimes I work in restaurants or bars. But always check the wifi first. A couple of times I had to leave my spot already after one hour because the restaurant put a timelimit on the wifi. (Starbucks and MacDonalds in Asia for example)
When you want to keep a 40 hours workweek, you need to find a ritme. It's really hard to stay focused when everyone around you is hanging out as a tourist. So make sure you have 'worktime' and 'free time'
I travel through countries mostly by locals. So on my website Can I come over you can see how I stay over at locals only. The biggest benefit I got out of the locals is that I can use their network. When I stayed over at Bernadette for example I was aloud to use the office at her work. She is a producer assistant and I got even to meet other filmmakers. Meeting other people from the same branche was really inspiring.